TEH Doorbell
- A simple, computer controlled doorbell system -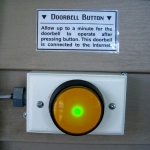 For years I have thought it would be entertaining to have a computer-controlled doorbell. Getting my own place provided me with the final push necessary to turn a long-time wish into a reality. This page documents my first attempt at a computer-controlled doorbell system consisting of both custom made hardware and custom written software.


---
---
The goals I set for TEH doorbell project were very practical in nature. I wanted a doorbell system that was customizable and modular, yet inexpensive and easy to build and use. Version 1.0 of my TEH doorbell design has met these design goals while providing me with a fun and truly unique doorbell system. TEH doorbell v1.0 provides the following features and functions:
Support for two (2) illuminated doorbell switches
Operation through a standard computer RS-232/EIA-232 serial port
The ability to play a sound file on the computer when 'ringing'
The ability to log time and date of all doorbell 'rings'
The ability to generate system or terminal 'beeps' when 'ringing
The ability to send an E-mail and/or SMS text message when 'ringing'
Software cross-platform compatibility using Python (for Windows, MacOS, Linux/Unix)
NOTE: The software part of TEH doorbell is further documented here: TEH Doorbell Software.
Schematics:
The hardware schematic for the TEH doorbell pushbutton (switch) assembly is shown below.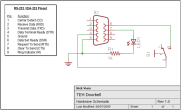 TEH Doorbell v1.0 schematic.
Components:
The following is a list of the components needed to build the pushbutton (switch) assembly for use with TEH Doorbell, hardware version 1.0.
(1) Single-gang electrical outlet/switch box. Outdoor "Bell" style box recommended!
(1) Single-gang electrical box cover plate, blank. Nylon, "non-breakable" type recommended!
(1) Electrical box fitting: 3/8" to round "soft" cord
(1) SPST or SPDT pushbutton switch (lighted and extra-large recommended!)
(1) Super-bright, 5mm LED
(1) 1k-ohm, 1/4-watt resistor
(1) DB-9 Female "serial port" connector
24 AWG, 4-conductor phone cord or similar wire of substatial length
TEH Doorbell, Pushbutton switches (version 1) Photos


Large || XL

Large || XL

Large || XL

Large || XL

Large || XL

Large || XL

Large || XL

Large || XL

Large || XL

Large || XL

Large || XL

Large || XL

Large || XL

Large || XL