Sony WEGA KD-34XBR960 HDTV
- Service Mode Memory / Settings Maps -
This page documents the memory / settings scheme used to program the Sony KD-34XBR960 and family HDTV sets. Only detailed information about the memory registers and pages accessible from "Service Mode" are discussed here. For general / starting information, please see the Sony WEGA KD-34XBR960 HDTV Main Page.
Notes about the following memory map:
This memory map only lists memory pages and registers which are non-volatile. That is, all registers that can be saved into memory are shown.
The Sony service mode also allows adjustments to be made to registers which are volatile and erased after each power off. These registers are used for special diagnostics while the TV set is powered on, and are in most cases not helpful to most people.
The function is not known for all registers. Beware of changing unknown registers!
Memory Page 2103-1: Video image quality settings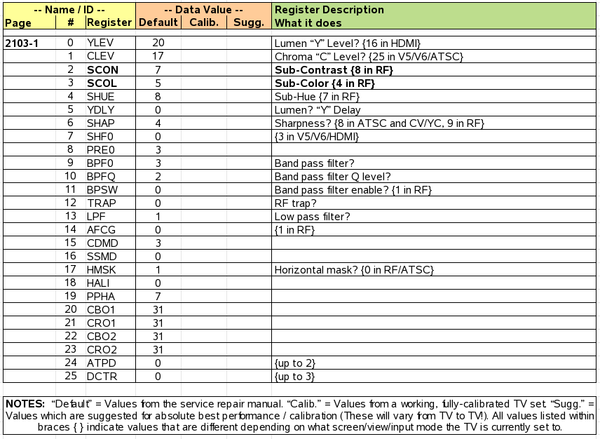 Memory Page 2103-2: RF, Composite Video, and S-Video (YC) image quality settings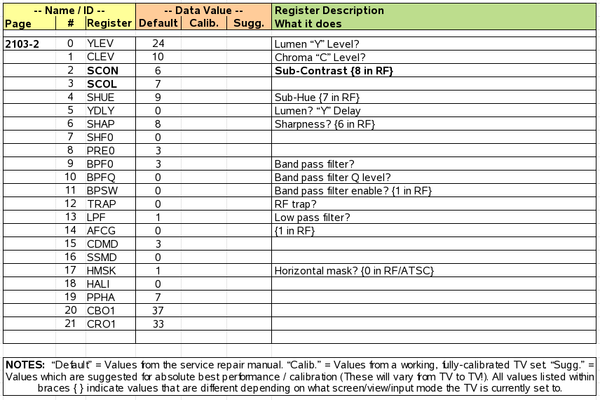 Memory Page 2170D-1: CRT picture deflection settings (Vertical realm)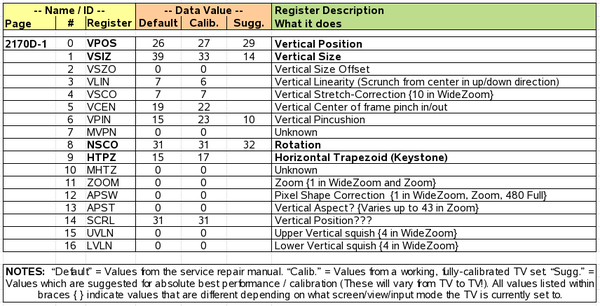 Memory Page 2170D-2: CRT picture deflection settings (Horizontal realm)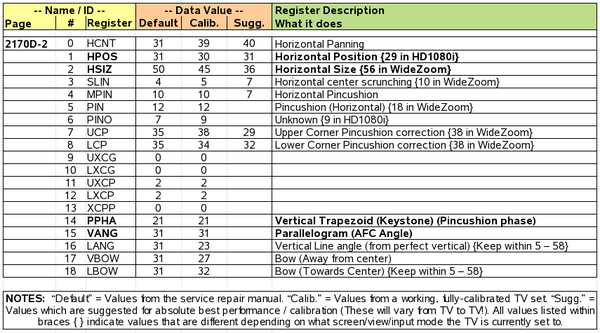 Memory Page 2170D-4: CRT dynamic focus settings


Memory Page 2170D-5: CRT picture deflection settings


Memory Page 2170P-1: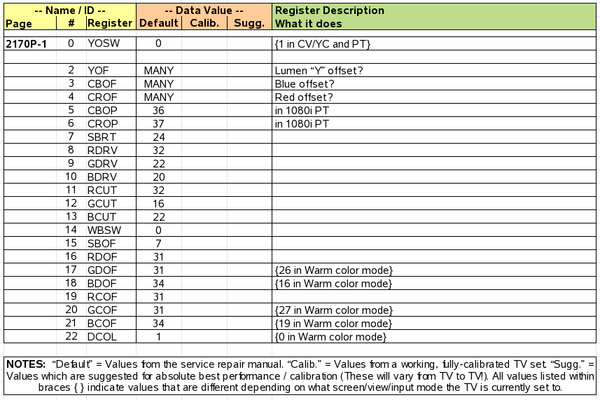 Memory Page 2170P-2:


Memory Page 2170P-3 (Different tables of data for each type of video input!):







Memory Page 2170P-4: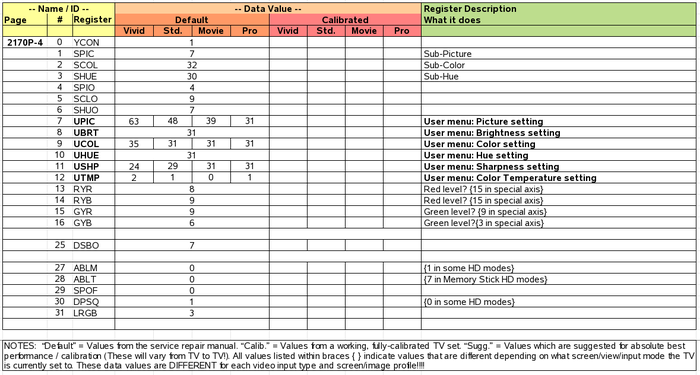 Memory Page 3D-COMB: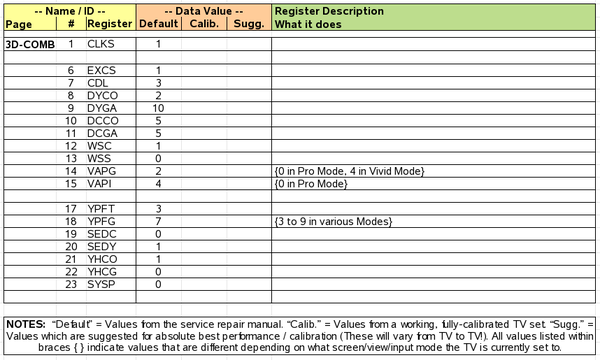 Memory Page AUDIO: Sound System settings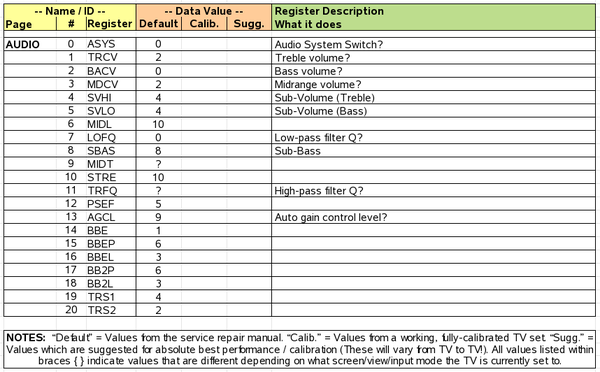 Memory Page CCD: CableCARD settings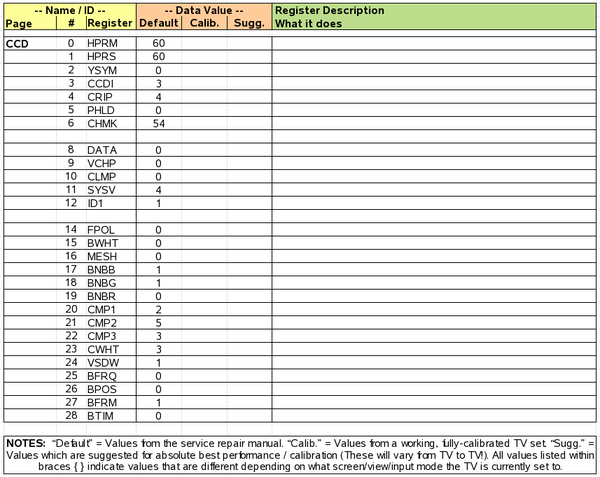 Memory Page CXA2171: Component Video Input Preprocessor / Multiplexer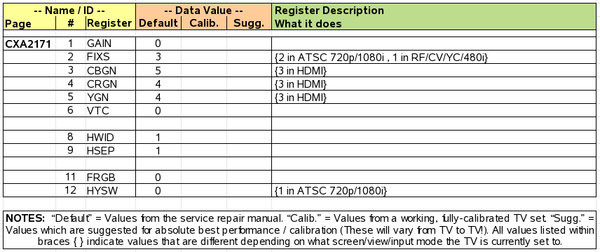 Memory Page ID: Model-specific and Locale-specific hardware feature settings


Memory Page LANDING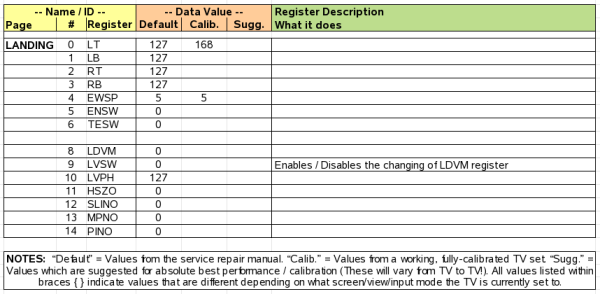 Memory Page MID1: Master DSP / Image Processor settings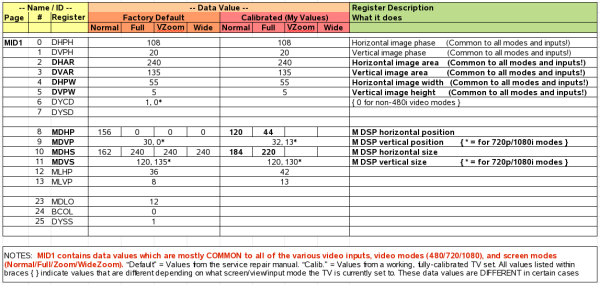 Memory Page MID2: Standard-definition (480i / NTSC) DSP / Image Processor settings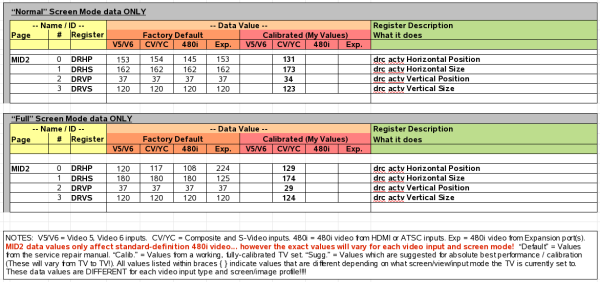 Memory Page OP


Memory Page SNNR