Custom 2-way Speaker Set
- Simple loudspeaker design -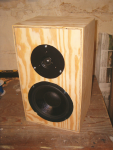 This custom 2-way speaker set was designed and built by myself with the help of Steve Krave (who built the speaker cabinets). In total seven (7) speakers were made; six (6) identical "bookshelf" style speakers, and one (1) horizontal "center-channel" speaker. The set can be used to complete a 7-channel surround sound system.
---
---
Crossovers:

I wanted to build crossovers that would be inexpensive and easy to build, yet provide reasonable performance. I decided that a typical 2nd-order passive crossover design was an ideal choice for my project. The crossovers I designed use two (2) 4.7uF capacitors and two (2) 0.6mH inductors to create a simple, 2-way crossover with a cutoff slope of -12dB per Octave (-40dB per decade.)




The schematic and components for the passive,
2-way audio crossovers I built are shown above.
I chose a crossover frequency of 3kHz, based on the specifications of the drivers I used. In this design, the frequency response of the tweeter driver was the deciding factor in choosing the crossover frequency. Component values for the crossover are found using the equation for the resonant frequency of an LC (inductor - capacitor) circuit. Since the frequency f = 1 / ( 2π * L * C ) , and I want f = 3000, I can calculate the values of L and C. I chose C to be 4.7uF because this is a standard and easy to obtain value of capactor. Solving the previous equation for L results in L = 0.6mH (the closest standard value.) Note: The actual crossover frequency will not equal exactly 3000Hz due to the tolerances of the components being non-ideal.




The 2-way crossovers are built on perforated board as shown above.
Specifications:

Woofer (Low Driver) Specifications:
Manufacturer:

Dayton Loudspeaker

Model:

Classic Woofer (DC160-8)

Nominal Diameter:

6.50"

Cutout Diameter:

5.75"

Magnet Diameter:

4"

Magnet Height:

1.1875"

Magnet Weight:

15 oz.

Mounting Depth:

3.1875"

Voice Coil Diameter:

1.375"

Impedance (AC):

8 ohms

Resistance (DC):

6.7 ohms

Power Handling:

50 Watts RMS, 75 Watts Max.

Voice Coil Inductance:

2.34 mH

Frequency Response:

30 - 4000 Hz

SPL (dB 1W/1m):

88

Resonant Frequency (Fs):

34 Hz

Max. Linear Travel (Xmax):

3.15mm

Mechanical Q Factor (Qms):

3.47

Electrical Q Factor (Qes):

0.36

Total Q Factor (Qts):

0.33

Equivalent Volume (Vas):

0.87 ft^3
Tweeter (High Driver) Specifications:
Manufacturer:

Dayton Loudspeaker

Model:

Silk Dome Tweeter (DC28F-8)

Nominal Diameter:

4.3125"

Cutout Diameter:

3.125"

Magnet Diameter:

2.75"

Magnet Height:

1.125"

Magnet Weight:

6 oz.

Mounting Depth:

1.125"

Voice Coil Diameter:

1.125"

Impedance (AC):

8 ohms

Resistance (DC):

5.5 ohms

Power Handling:

50 Watts RMS, 75 Watts Max.

Frequency Response:

1.3 - 20 kHz

SPL (dB 1W/1m):

89

Resonant Frequency (Fs):

637 Hz
Crossover Specifications:
Crossover Type:

2-way Passive

Filter Type:

2nd-order low + High pass

Nominal Impedance:

8 ohms

Cutoff Frequency:

3000 Hz

Cutoff Slope:

12 dB/octave (40 dB/decade)

Inductor Type:

Jatzen Air-core Inductor

Inductor Specs:

0.60 mH, 20 AWG, 0.53 ohm, 200 Watts RMS

Capacitor Type:

Dayton DMPC-4.7 Polypropylene Capacitor

Capacitor Specs:

4.7 uF, 250 VDC, 1% Tolerance
Cabinet Specifications (Excluding "center-channel" cabinet):
Manufacturer:

Steve Krave

Material (Sides):

0.625" BC Plywood

Material (Front & Back):

0.750" BC Plywood

Height:

14.5"

Width:

8.5"

Depth:

7.5"

Interior Volume:

576.375 in^3

Port Vent Diameter:

1.5"

Port Vent Length:

3.875"

Port Tuning Frequency:

Approx. 55 Hz
Custom 2-way Speaker Set Photos


Large || XL

Large || XL

Large || XL

Large || XL

Large || XL

Large || XL

Large || XL

Large || XL

Large || XL

Large || XL

Large || XL

Large || XL

Large || XL

Large || XL

Large || XL

Large || XL

Large || XL

Large || XL

Large || XL

Large || XL

Large || XL

Large || XL

Large || XL

Large || XL

Large || XL

Large || XL

Large || XL

Large || XL

Large || XL

Large || XL

Large || XL

Large || XL

Large || XL

Large || XL

Large || XL

Large || XL

Large || XL

Large || XL

Large || XL

Large || XL

Large || XL

Large || XL

Large || XL

Large || XL