CFLED Lamp (Unit #2)
- A simple, custom-made 120-Volt LED lamp -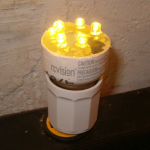 Compact Fluorescent Lamps (CFL) are an efficient and long-lived lighting source. However, like all lamps, they eventually "burn out" and sometimes fail prematurely. One alternative I thought of to recycling failed lamps is to reuse the parts for custom LED lamps. This page documents building Unit #2 of my "CFLED" lamp design.


---
---
NOTE: For more information about the CFLED Lamp design and idea, see the CFLED Lamp (Unit #1) Page.
Materials List:
(1) Old / defective Compact Fluorescent Lamp (CFL)
(1) 0.47uF, 250V, non-polarized capacitor (like Digikey P/N P10734-ND) **
(1) 180-ohm, 1/2-Watt metal film resistor (like Digikey P/N PPC180W-1CT-ND)
(4) 1N4004 or similar (400V, 1A) Diodes (like Digikey P/N 1N4004FSCT-ND)
(6) "Super-bright" T 1-3/4, 5mm diameter, 100 degree, white LEDs
(1) 27.6V TVS-zener diode, bi-directional
Some short lengths of small-diameter wire (i.e. 24 or 28 AWG)
Hot glue, electrical tape
** NOTE: The capacitor should be a film-type capacitor rated for AC mains use!
** NOTE: For 220 to 240 Volts AC mains power, use a 0.22uF, 600V capacitor for C1.
CFLED Lamp, Unit #2 Photos


Large || XL

Large || XL

Large || XL

Large || XL

Large || XL

Large || XL

Large || XL

Large || XL

Large || XL

Large || XL

Large || XL

Large || XL

Large || XL

Large || XL

Large || XL

Large || XL

Large || XL

Large || XL

Large || XL

Large || XL

Large || XL

Large || XL

Large || XL

Large || XL